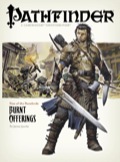 Pathfinder™ Adventure Path
Welcome to the Pathfinder Adventure Path, the premiere monthly outlet for your fantasy roleplaying campaign. Every month, the Pathfinder Adventure Path brings you a new installment of an ongoing series of interconnected quests that, together, create a fully developed plot of sweeping scale and epic challenges. In each volume of the Pathfinder Adventure Path, you'll meet nuanced characters, visit fantastical locations, face deadly foes, and learn ever more about nefarious plots and an incredible world forged by some of the most popular authors and artists in fantasy gaming.
Choose your Path to Adventure!