We are currently sold out of all Eventide products!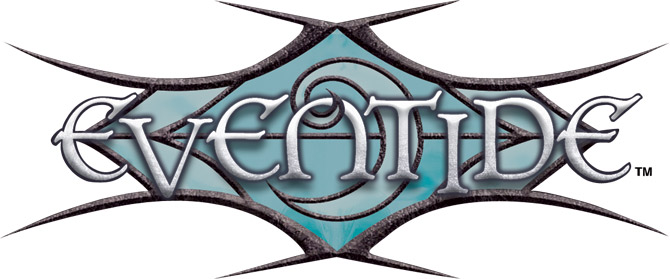 As the gloom deepens over the world of Shadowmoor, the plane's eerie transformation is complete. Selkies, duergar, hobgoblins, and other creatures from the macabre fringes of folklore thrive in the permanent night. Their mix of mischief and malice drives the wholesome elves and the xenophobic kithkin back into their strongholds, opening the door for sinister forces to reign.
---
Just as the Shadowmoor set turned the plane of Lorwyn on its ear, the Eventide set distorts everything Shadowmoor established. Enemy colors combine and create new strangeness on hybrid cards. Wither, persist, and the untap symbol are back, and are joined by two new mechanics: chroma and retrace.
Color matters more than ever in Eventide, and the new ability chroma puts an exclamation point on it. Chroma asks you to count up the number of mana symbols that appear in cards you're using—the more mana symbols there are, the more devastating the effect.
Cards with the retrace ability take every land you draw for the rest of the game and turn them into weapons to abuse your enemies with.